May 16th, 2012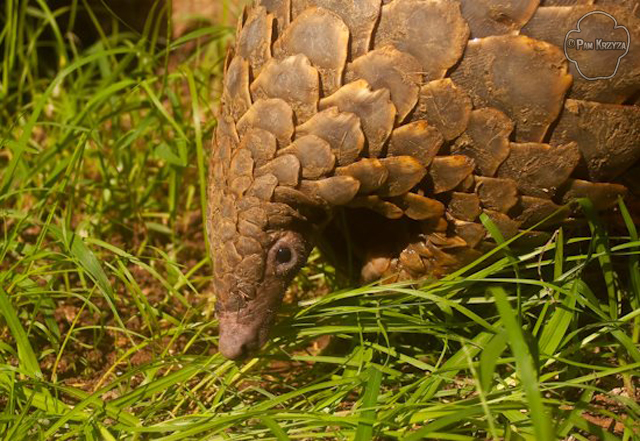 Zimbabwean officials have seized yet another pangolin destined to be sold into the illegal wildlife trade — the third so far this year.
According to the Zimbabwe National Society for the Prevention of Cruelty to Animals (ZNSPCA), authorities have seized a female Cape Pangolin from suspects in Northeast Zimbabwe who had caught the wild animal in the bush for the purposes of selling it — a crime in Zimbabwe.
It seems the pangolin was turned over to the Tikki Hywood Trust, who have tagged the critter with a tracking device and have released it at a safe and protected area.
Apparently, the incident follows rangers' confiscation of a de-scaled pangolin carcass in March.
The ZNSPCA reports that the scaleless condition of the carcass suggested that it had likely been procured for the traditional Chinese medicine market.
African pangolins are increasingly being threatened by East and Southeast Asian demand for their flesh, scales, blood, and other body parts — in the wake of the depletion of Asian pangolin populations, which continue to be exploited by poachers and criminal wildlife traders.
In fact, an individual was recently arrested for allegedly attempting to smuggle pangolin scales out of Uganda and Chinese national appeared in court in March for charges stemming from his smuggling of pangolin scales from Angola in 2011.
Tikki Hywood Trust
Earlier this year, a juvenile Cape pangolin was seized from a Mozambique national and has been undergoing a sensitive rehabilitation process at the Tikki Hywood Trust.
Last year, the organization played a key role in helping prosecutors file the appropriate charges against suspects that had been arrested for illegal possession of a pangolin, with the goal of maximizing the effectiveness of the legislation Zimbabwe has enacted to protect the scaly anteaters.
Watch our Behind the Schemes interview with Tikki's Lisa Hywood to learn more about the organization's ongoing efforts to help the pangolins of Zimbabwe — as well as their other work with Zimbabwean wildlife:
Scaly anteaters spiraling toward extinction
TRAFFIC reports that pangolins are the most commonly encountered mammals in the illegal wildlife trade in Asia.
These animals are in high demand in East and Southeast Asia, with China and Vietnam identified as the largest consumer nations.
There, the flesh of adults and fetuses are consumed as delicacies and for myths surrounding good fortune and 'health benefits'.
Like other animal-based traditional Chinese medicines, pangolins' blood and body parts – especially their scales – are superstitiously used as a 'cure-all' remedy for things like reducing swelling, improving liver function, weight loss, stimulating blood circulation, and enhancing lactation in breast-feeding women.
Reckless rumors have also been spun claiming pangolin scales can cure cancer.
There is no scientific evidence to support any of the medicinal claims made about pangolin body parts.
In fact, rhino horn and pangolin scales (much like our own hair and nails) are chiefly composed of keratin and studies have repeatedly shown rhino horn to be void of any medicinal properties.
An estimated 41,000 – 60,000 pangolins were poached last year alone and perhaps as many as 700-800 have been confiscated in at least 16 media-reported busts so far this year.
Additionally, the demand for pangolin parts is apparently being stimulated by lucrative 'medicinal use' pangolin farming ventures in China.
Read "8 Things Everyone Should Know About the Booming Illicit Pangolin Trade" for more information.
---
Author:
Sarah Pappin
. Read more about Sarah
here
.
Image ©Pam Krzyza
Want to help? Check out our pangolin t-shirts: Project Pangolin is contributing $2.00 per t-shirt or hoodie to Education for Nature-Vietnam.
Related posts: