May 23rd, 2012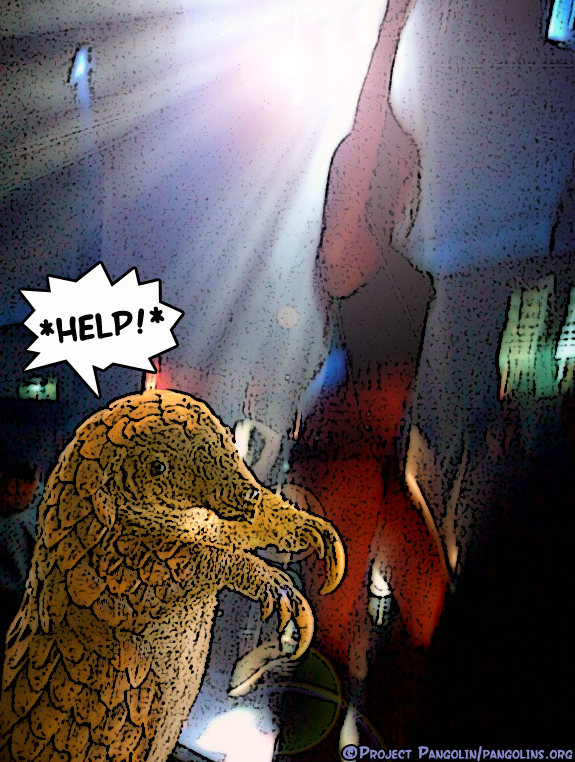 What's a party without "sexy dancers" and the flesh of pangolins and other endangered wildlife?
According to a recent Tuoitrenews.vn article, Vietnamese VIPs feel a party isn't a party without grade A exotic dancers, luxury cars, and of course, the flesh of endangered animals like the pangolin.
It seems the more money spent on these posh festivities, the more respect one gets for his or her social standing — and nothing is too expensive.
Party like an animal?
Apparently, party-goers enjoy the sexy, dancing entertainers (who are paid more if they wear less — even "tens of millions of dong") and processions of the most coveted vehicles (decked to the max with major "bling" appeal), whilst snacking on the flesh of extinction-bound creatures.
Aside from the scaly anteaters, Tuoitrenews.vn adds that animals like bears, snakes, muntjac, and deer are also often on the menu.
Given that extremely expensive yet carnage-laden and medicinally useless rhino horn products and tiger bone wine are so highly sought after amongst the increasingly affluent Vietnamese, one can only imagine that they may also be party favors at these swanky affairs.
In fact, a recent Assoicated Press article describes the use of rhino horn as a "hangover cure" amongst the wealthy people of Vietnam who may attend such parties.
It's all in the name
While the Tuoitrenews.vn report details the lavish spending of various real estate tycoons, hotel chain magnates, high-end travel agency owners, and prominent marketing execs for these events, it goes on to say that the theme is nothing new to the most elite members of Vietnamese society.
One of the aristocrats explained how the parties serve as a means for VIPs to command respect for their name, reaffirming their high-ranking social standing.
Nguyen Ngoc Tho, vice chief of the culturology department of the HCMC University of Social Sciences and Humanity, remarked that owners of the kind of luxury parties have no other target than showing off their names.

"The phenomenon is not new now. It can bring negative consequences to society. They want to show off their property to be judged superior than others. Others want to polish their names to have fame," Tho concluded.
Vietnamese and Chinese demand drives pangolins toward extinction
An estimated 41,000 (and perhaps as many as 60,000) pangolins were poached from the wild in 2011 alone.
This rampant slaughter is driven by an insatiable demand for the scaly anteaters that stems primarily from China and Vietnam.
Vietnamese authorities have already made at least three pangolin seizures so far this year.
There, the flesh of adults and fetuses are consumed as delicacies and for superstitions surrounding good fortune and 'health benefits'.
Like other animal-based traditional Chinese medicines, pangolins' scales (and blood and other body parts) are used as a "cure-all" remedy for things like reducing swelling, improving liver function, weight loss, stimulating blood circulation, enhancing lactation in breast-feeding women, and even cancer.
However, there is no scientific evidence to support any of the medicinal claims made about pangolin body parts.
In fact, rhino horn and pangolin scales (much like our own hair and nails) are chiefly composed of keratin and studies have repeatedly shown rhino horn to be void of any medicinal properties.
The widespread plundering of these mammals has been greatly amplified by lucrative 'medicinal use' pangolin farming ventures in China, which have seem to have significantly increased the demand for these animals.
Vietnamese NGO fights illegal wildlife trade
Thankfully, a local non-profit organization, Education for Nature-Vietnam (ENV), is fighting to end illegal wildlife trade — including that of the scaly anteaters — through their tireless work with the public.
They've developed some wonderful education programs and have launched numerous public awareness campaigns.
Additionally, ENV established a "Wildlife Crime Unit" (WCU) in 2005, which encourages the public to report wildlife crime activities.
The WCU also has a toll-free national hotline through which citizens can easily and anonymously file reports and provide tips to aid law enforcement officers. (Locals can dial 1800 1522 and reports can also be submitted online at the ENV website.)
Last year, ENV published a report on pangolin trade in Vietnam between 2005 and 2011, which documented seizures of some 3,385 pangolins over that time. (Read more about it here.)
You can help Education for Nature-Vietnam (ENV) make a difference for Vietnam's wildlife.
Check out ENV's website at envietnam.org to learn more.
You can also help with a pangolin t-shirt: Project Pangolin is contributing $2.00 per t-shirt or hoodie to Education for Nature-Vietnam.
---
Author:
Sarah Pappin
. Read more about Sarah
here
.
Image by author (background adapted from photo by Kyle L. on Flickr)
Related posts: